Herro!~ This is Claire.  Please excuse me if this is all wrong, its my first time blogging (meep).  As I walk through the increasingly slushy winter wonderland that is Seattle, I have been inspired, and motivated to create this look.  It was pretty much spontaneous and since I was at Berit's I was without my makeup and brushes, so I was stuck with her barbie sized applicators.  I tried to make this look practical and copy-able, I think it would be gorgeous at a new years party! Here you go:
First, I moisturized her up with Neutrogena Oil Free Moisture, but in another case I would have used
MAC Ultralush Moisturizer
 (I would not recommend using any Neutrogena skin care products if you can avoid it, they tend to overdry rather than deep clean and this MAC stuff is magical)  Very important for winter-warped skin.
 Then I applied a sheer foundation with a tiny dot of illuminator all over her face with a sponge to clear her skin up and add a little glow.
Using a heavy-duty ultra creamy yellow toned under eye concealer on her undereye circles.  This is really important for winter, since we tend to get sallow and lack that natural glow which would normally disguise the blue under our eyes. Also, some moisturizing concealer on her lil blemishes.
Powder!! To set the foundation and concealer.  TALC FREE!!! Not too much, you don't want to look ashy.  On spots that you are worried about smudging, use a finger or concealer brush to pat the powder on.  If you get too much on there, gently brush it off with a clean powder brush or use a clean tissue to gently wipe. 
I used a peachy blush, right onto the apples of her cheeks.  A little brush of a light bronzer onto the bridge of her nose, jaw bone, cheek bones, and forehead.  Just to bring color back into her face.
Chapstick!  All natural, very tasty.  Toothbrush off all the nasty dead skin, using careful and gentle circular motions, and make sure to clean off your toothbrush afterward! (icky!) Then put some more chapstick to soothe and protect for the next step.
I applied a lip grip by Sally Hansen so that her lip color would stay all night long, and while I love this product a lot it really dries out your lips.  Putting a waxy chaptstick on beforehand is important.   Then I applied a natural pinky lipstick and brushed a tiny bit of clear gloss ontop.  I like to use the top coat of those long lasting lip colors.  If you get too much on, dab with your middle finger until it just looks lush rather than juicy.
Here's the best PART!!! I applied an icy shimmer in white all over her lid, and just onto the brow bone.  THEY LOOK LIKE SEXY ICYCLES!! YUM (*sidenote: I would like to point out that in Grey's Anatomy, when doctor YANG gets impaled by an icycle, it is totally unrealistic beCAUSE there have never ever ever been icycles that size in Seattle, and since that is where Grey's Hospital is supposed to be, it is a LIE!!!!)
Then, I dusted a little shimmery lavender shadow into her crease and lined her eye with black liquid eyeliner.  I even gave the eyeliner little wings right at the end.  Make sure to get the waterline (the inside of the lashline, look down hard and apply up)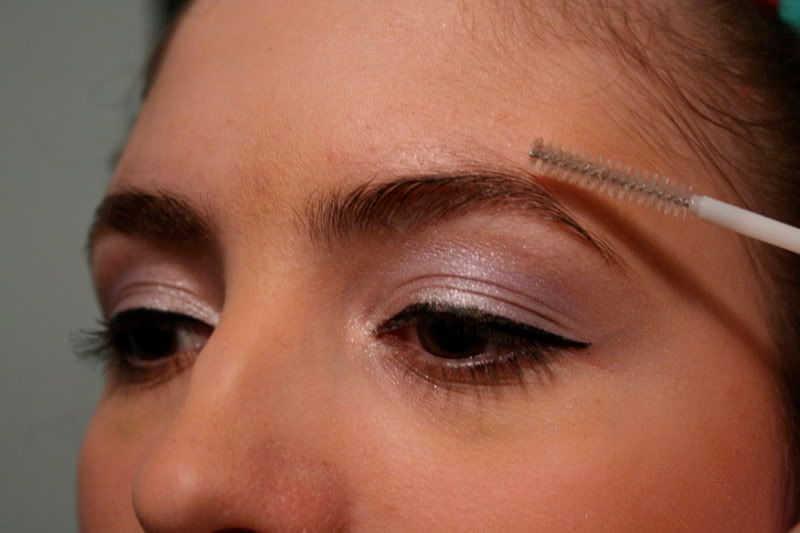 Clear mascara for perfect eyebrows!
All Pow! Not a very good depiction of the look itself, but its the best picture.  VERR PRETTY!! Remember, that even though winter is cold and nasty, you can still look HOT LIKE FIRE.
damn chica, you so fine ;)